Custom CNC Machining Services
At Jaco, we are proud to be an ISO9001:2015 and AS9100D certified manufacturer of precision components and assemblies. We have the custom CNC machining services to get your job done no matter your industry or application. We provide accurate, high-quality machining services that exceed your expectations and work within your budget.
CNC Screw Machining. Our CNC screw machines produce accurate, precise, and repeatable results. Advanced features, such as CNC controls, dual spindles, and live tooling, produce parts with complex geometries in one operation for high-volume production.
5-Axis CNC Machining. Jaco's 5-Axis CNC machines drive five axes simultaneously to generate complicated tool paths and quickly produce components for medical implants, turbines, and other complex applications.
Vertical CNC Machining. Our vertical CNC machines are suited for high-production and high-precision applications. Features include multi-pallet management systems, automatic tool changers, high-speed cooled spindles, and more.
Horizontal CNC Machining. Jaco's horizontal CNC mills provide a fourth axis to create more complex parts with fewer setups than our vertical CNC mills.
Custom Secondary Services
The team at Jaco is prepared to meet any custom machining or manufacturing requirement through our roster of secondary services. We assure quality in everything we do so your finished product meets all specifications and regulations required within your industry.
3D Printing. 3D Printing is an additive manufacturing process where material is added layer by layer until the finished part is complete. We work from your custom design or CAD file to create components quickly and cost-effectively.
Laser Welding. A laser applies heat to a small, concentrated area, welding the surfaces with minimal warpage or distortion. Our automated process allows for precise control and repeatability of our high-quality welds. Laser welding is widely used for medical and surgical instruments, which require a clean weld with minimal distortion and post-weld handling.
Citric Passivation. Jaco's citric acid passivation services are a safe, environmentally friendly method to improve corrosion resistance in stainless steel. This process is also used to remove surface impurities from other metals, including copper.
Design for Manufacturing. Jaco's manufacturing engineers work closely with you to provide design assistance and optimize manufacturing and production processes. We are dedicated to delivering high-level customer service alongside our quality products and machining capabilities.
Precision Manufacturer of Machined Parts for Medical, Aerospace and High Technology Industries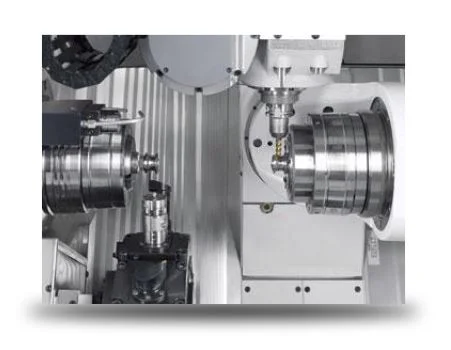 Founded in 1979, our company continues to be family owned and operated with three generations of family management.  Multi-generation family involvement assures the continuity and longevity of our customer relationships.
In 2004 we celebrated our 25th anniversary and launched a strategic initiative to increase our competitiveness through investment in advanced manufacturing, inspection and information technologies.  These investments enabled Jaco Machine Works to deliver big improvements in efficiency, quality and service to our customers.
Over the years Jaco Machine Works acquired multi-axis CNC screw machines and lathes, capable of both lathe and mill functions in a single machine.  Complex parts that had previously required two or three additional machines could be made in a single operation.  Proving to be a successful strategy for Jaco Machine Works, our employees continue to embrace new technologies and skills, delivering greater quality and productivity, while building parts they never dreamed possible.
CNC Machining remains Jaco Machine Works' core competency.  Management remains committed to the strategy of investing in the advanced technologies needed to deliver the best value in precision machined products to our industry leading customers who demand no less.
Overview of Jaco Machine Works
40-year-old family owned and operated for three generations
Veteran Owned Small Business
AS9100D and ISO9001 certified Quality Management System
ISO13485 compliant Quality Management System
Current company president is a licensed mechanical engineer
Precision multi-axis CNC machine shop
NAICS codes 332710, 332721 & 332722
ITAR registered
Supply chain management for complete part processing - including NADCAP certifications
Adept at supply chain solutions: Kanban, Assembly, Kitting, Vendor-Managed Inventory
Contact Us
Request Quote