Plastics Machining Materials
Machined Plastics Components play a significant role in many industries including medical, life sciences, instrumentation and security.
Here are some of the more common plastics we machine at Jaco Machine Works.
At Jaco Machine Works we create parts from PEEK that allow for high precision, heat, wear, and abrasion resistance.
PEEK (polyether ether ketone) plastic is very resistant to heat and chemicals while exhibiting superb mechanical properties. You can find peek parts in very demanding environments as it holds up very well in liquid environments. Peek is low weight/high strength plastic.
Peek material properties include some of the following: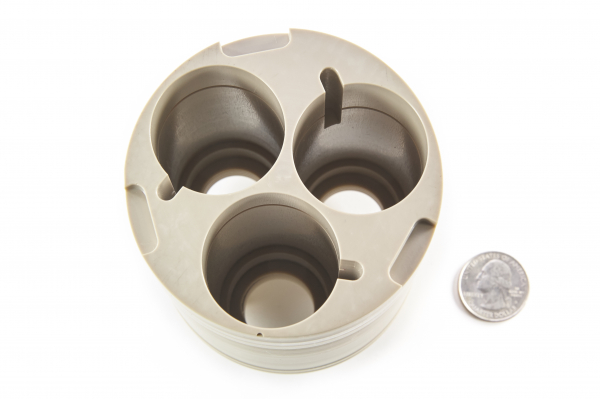 Great chemical resistance even at higher temperatures
Strong, stiff material
Holds up well to stress and also crack resistant
Great in hot water, steam and other harsh environments
In medical industry can be steam sterilized, autoclaved, etc.
Machining and Turning friendly
UL 94 V-0 flammability rating
Low smoke emission when exposed to flame
Some grades approved for food industry use
At Jaco Machine Works we provide manufacturing support on many programs and product lines with parts made from PEI. PEI (polyetherimide) is a high-performance plastic used in machining medical and other industries requiring strength and rigidity.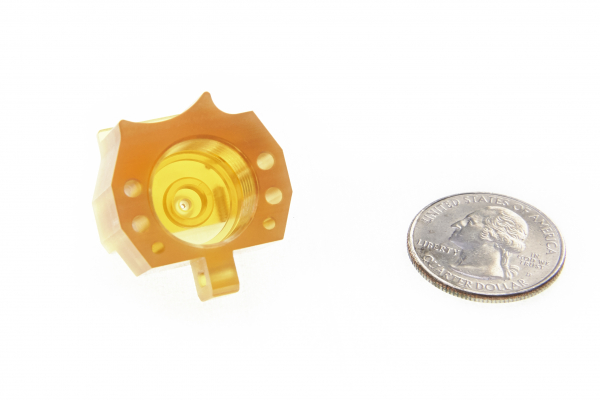 High Temperature Resistance Rigidity and strength at high temperatures
Flame Retardant
Heat Resistance
Electrical Properties
 ABS - Acrylonitrile Butadiene Styrene
At Jaco we machine many types of parts with ABS. ABS is a low cost plastic used in many industries when a non-metal material is required and only a general purpose plastics grade is needed. ABS is readily available in a variety of colors and sizes.
Some of the features of ABS include:
Strong resistance to corrosive chemicals
Good impact strength
Recyclable
Paintable
Low cost
PC - Polycarbonate (Lexan)
At Jaco Machine Works we use Polycarbonate (PC/Lexan) for many programs. Polycarbonate is a tough, versatile plastic used in many industries from bullet proof windows to compact discs. One of the main advantages of polycarbonate over other types of plastic is its great strength combined with light weight. While acrylic is 17% stronger than glass, polycarbonate is nearly unbreakable. Also, polycarbonate is only a third as heavy as acrylic, or a sixth of the weight of glass.
The electronics and instrumentation industries also use polycarbonate. It has been used to create transparent colored computer cases, for example, and many cell phones, pagers, and laptops also use it in their casings. Many microfluidics cassettes and other lab on a chip enclosures are prototyped and produced utilizing polycarbonate.
Some highlights of Polycarbonate material:
Available in clean, transparent and opaque colors
Stronger than glass and acrylic and lighter than both
Nearly unbreakable when used in bullet proof and shatter proof geometries
good optical transparency
good dimensional stability
biologically inert
At Jaco Machine Works we use Delrin in precision parts requiring high stiffness, low friction, and excellent dimensional stability. Delrin (Polyoxymethylene/Acetal) is sold under many brand names such as Duracon, Ramtal and Celcon.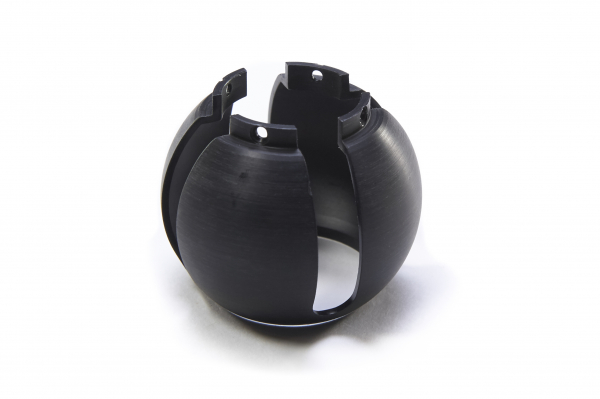 Some highlights of Delrin are:
Dimensionally stable
Readily available in rod, sheet and tube stock
Strong lubricity for bearings and wear surfaces
Rigid
Impressive Mechanical Strength
Resistant to Fatigue
Impact resiliency
Impervious to exposure to moisture, gas and chemical solvents
Stable in low temperatures -50 degrees C
Easy to fabricate and manufacture
Acrylic - Plexiglass
Jaco Machine Works uses Acrylic for parts when excellent dimensional stability, weatherability and optical clarity is required. Acrylic is a durable, transparent thermoplastic homopolymer, often also known by the industry name "plexiglass." The material is similar to polycarbonate in that it is a good alternative to glass due to its impact resistance (particularly when the high impact strength of PC is not required).
Some highlights of Acrylic are:
Excellent optical clarity
Excellent weatherability and resistance to sunlight
Rigid, with good impact strength
Superior dimensional stability
Stretch forming increases bi-axial toughness
Fluoropolymer (PTFE/Teflon)
At Jaco Machine Works we create Fluoropolymer (PTFE/Teflon) parts when high heat resistance & stability are required. Fluoropolymer is a fluorocarbon-based polymer with multiple carbon–fluorine bonds. It is distinguished by a high resistance to solvents, acids, and bases. Fluoropolymer also has good weather resistance and superior electrical properties. Common uses include: Backup Rings, Coatings, Distribution Valves, Electrical Insulation Applications, Food and Beverage Applications, Manifolds, Packaging Material, Pistons, Seals, Wear- and Friction-Related Components.
Some highlights of Fluoropolymer (PTFE/Teflon®) are:
High Temperature Resistance
Heat Stability
Weather resistance
Low friction
Excellent electrical properties
Chemical Resistance
Sliding Properties
Low Strength
Nylon - Polyamide (PA)
At Jaco we machine many types of parts from Nylon (Polyamide/PA). Nylon is a versatile, lightweight material, common uses include: sheaves, gears, nozzles, industrial bearings and wear pads. Nylon has excellent mechanical properties including high tensile strength, high flexibility, good resilience, low creep and high impact strength and toughness.
Some highlights of Nylon (Polyamide/PA) are:
Low Coefficient of Friction
Abrasion Resistance
High Strength
Lightweight
Whatever your application may be, Jaco Machine Works' engineers and talented operations professionals are determined to help you succeed.
If you are developing Plastic, machined components Jaco Machine Works is happy to review your program to see how we can provide support. Please Contact us for a quote today.
Contact Us
Request Quote